Tesson Holdings Limited (hereinafter referred to as "Tesson") was established in 1982 and was listed on the Main Board of The Stock Exchange of Hong Kong Limited (stock code: 01201.HK) in 1998. Our business headquarters is located in Hong Kong and has been awarded "Hong Kong Outstanding Enterprises" for few years, "China's Best 100 Overseas Chinese Enterprise", "Forbes Asia's Best Small Asian Listed Companies" and other titles. In the past 30 years since our establishment, Tesson has maintained a steady development trend. In 2017, various economic indicators reached a new high, achieving sales income of HK$391 million (about RMB339 million), and profit attributable to shareholders of HK$19 million (about RMB17 million), representing an increase of 2.17 times.
Tesson marks the beginning of the non-mainland-funded enterprise in China. We had established an excellent printing enterprise group in China, and were one of the major packaging and printing enterprises in China at that time. We had constructed certain R&D and production bases in Yunnan, Heilongjiang, Anhui, Kunming and other cities, equipped by a number of advanced roller gravure, offset, flexo and silk screen printing production lines, with innovative production technology and techniques, quality control system accredited with ISO 9000, environmental certification accredited with ISO 14000, and OHSAS 18000 occupational health safety certification, we had developed good business relationships with high-quality corporate customers in various industries, including numerous large state-owned tobacco manufacturers in China such as Yunyan, Hongtashan, Honghe and Yuxi, liquor manufacturers such as Gujing, Jiugui Liquor, Langjiu, pharmaceutical and health industry manufacturers such as Yunnan Baiyao and Taiji. It constructed a solid economic foundation for the group and enabled us to gain rich experience, providing more possibilities for our diversified development in the future.
In the past 30 years, Tesson has been adhering to the concept of "innovation-driven development", winning market reputation with sophisticated techniques and innovative technology, creating substantial commercial value. In the next decade, Tesson will continue to adhere to this innovative concept and achieve sustainable development of various stakeholders in different aspects including society, environment and commerce in a more efficient and sustainable manner and business model, in order to explore for mankind and create a better life. To this end, Tesson continues to deepen reforms, continues to innovate and transform, and develop from a single entity to a diversified business structure centered on physical operations + operational services + investment, gradually shifting from the printing industry to the future industries including the new energy, cultural creativity and real estate industries, to extend the value of business life and reduce the risk of single income.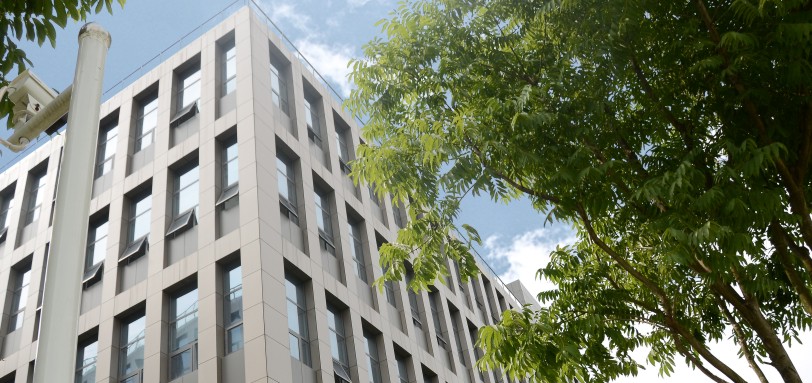 In 2015, Tesson New Energy (Shenzhen) Co., Ltd., a subsidiary of Tesson, was established, and successively established industrial subsidiaries in Weinan, Shaanxi, Nanjing, Jiangsu, and other places in mainland. At present, the construction of the 5GWh power battery production base phase 2 in Weinan, Nanjing Research Institute and Nanjing Lishui PACK system assembly base was completed, based on the battery core, the development of power system assembly industry will be boosted, and the production chain of "battery + motor + electronic control" will be continuously improved, an ternary lithium battery industry chain comprising research and development, production, operation and service has been initially formed.
In the future, Tesson will continue to improve our capabilities, quality and efficiency, steadily consolidate economic production and innovation and exploration capabilities, and strive to build a competitive world-class enterprise with quality first, followed by efficiency and moderate scale working requirements.